Stock markets mounted a remarkable recovery in April, as massive fiscal and monetary steps taken to counter the unprecedented economic downturn lifted all markets.
US indexes had their best returns in decades. The S&P 500 and the Dow Jones Industrial Average had their best month since 1987, up 12.7% and 11.0%, respectively. The tech-heavy NASDAQ 100 surged 15.0%.
All major indexes were up for the month. Small- and mid-cap stocks, which were hard hit in the decline, led the way with some of the biggest gains in April.  However, only large-cap stocks are positive for the trailing year, as you can see on the chart below. (ETFs that track major indexes in order of best to worst returns in April.)
This year's market trends remained in place as US stocks continued to outpaced foreign, and growth led value.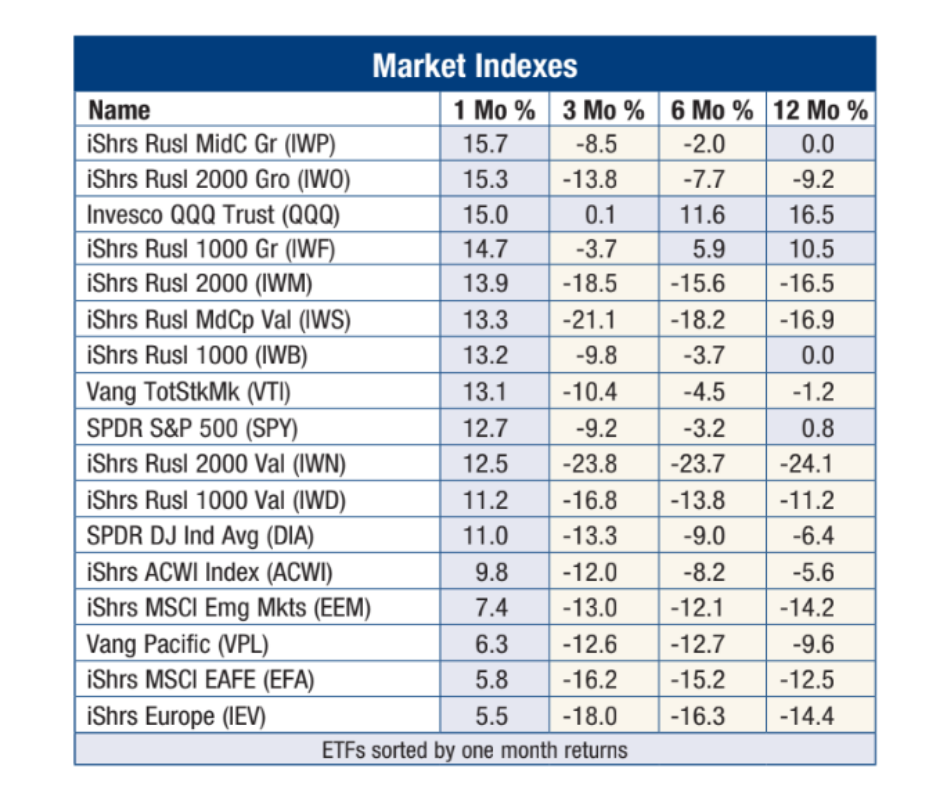 Stocks gain despite dire economic conditions
Given the dire economic straits—soaring unemployment, the prospect of bankruptcies among restaurants and retailers, and one company after another canceling profit forecasts—the stock market's resilience puzzles many investors. But the economy and the stock market don't often move in sync. Markets tend to rebound long before any actual improvement in economic fundamentals is apparent.
Can it last?
No one knows today if we are in the midst of a sustained stock market recovery or if there are further declines ahead. As advisors, we move forward by focusing on what we do know: that we have an investment plan tailored to each client's goals and needs, and we have time-tested strategies designed to help us navigate changing markets.
If you're need help developing a plan that works for you or staying on track through uncertain markets like this, let's see if we can help. Click here to set up a time to talk with a FundX advisor.