What's going to happen with interest rates?
Rates have been rising this year. The Federal Open Market Committee (FOMC), the Federal Reserve committee that makes key decisions about interest rates, has bumped up rates three times since December 2016.
Investors should expect rates to continue to move higher, FundX Chief Investment Officer Jason Browne told CNBC on July 6, 2017, but no one knows exactly when the next rate increase will occur.
"We'll probably see somewhat higher rates if not next quarter then probably one more hike later this year," Jason noted.
Click here to watch Jason's CNBC appearance.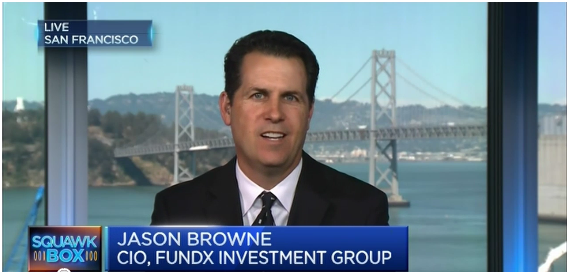 The bigger question: What to do NOW
The bigger question about interest rates is what YOU can do now, given that there's still so much uncertainty around when and how rates will rise.
Here are three tips that can help you answer this question and stay on track even when markets change:
1. Don't let uncertainty hold you back
Not knowing what's going to happen to the bond market is unnerving, but if we hope to get ahead, we have to come to terms with uncertainty and learn how to manage it because uncertainty is part of investing, just like it's part of life.
Too often investors try to wait it out. They assume that with time, they'll feel more confident about where interest rates are headed or how the market will respond to changing rates. They figure that they also have more information at that point, which will help them make better investment decisions.
But consider where we are today versus a year ago: we have more information about interest rates: we know that the Fed has raised rates three times in the past year, and yet this hasn't made it easier to know how to invest now.
2. Focus on what you know
In times of uncertainty, we tend to focus on what we don't know. Instead, try to focus on what you know for sure. You know why you're invested and what you're trying to accomplish with your money, and these goals aren't tied to the Federal Reserve's decisions on interest rates.  
You also know that when it comes to investing, the best results are long term, and that bonds can help you stay invested over the years by buffering the volatility of stocks.
And you know that markets will change while you're invested, and that some bonds will hold up better than others—even in rising rate environments. High yield, floating-rate and strategic bonds have done well as rates rose over the past year, while government bonds were negative for the 12 months ending June 30, 2017.
3. You need a plan, not a crystal ball
The takeaway here is that you don't need to know the future in order to invest in bonds today.
What you do need is a plan that can help you know what to do whether rates rise or fall. For most people, their investment strategy is their plan: it helps them determine where to invest today and what to do when markets change.  
A solid strategy should consider a wide range of bond funds, so you'll know which funds are doing well now and you'll be able to find safe havens in more challenging markets. In the 2008 financial crisis, for instance, some high-yield and strategic bond funds lost 30% or more, while higher-quality bonds, like short-term U.S. Treasury bonds, had gains.
Our fixed income strategy looks at corporate and government bond funds, higher- and lower-quality bonds funds, and global and domestic bond funds. It even goes beyond traditional bond fund categories: we can also own total-return funds, like balanced funds and preferred stock funds. These funds can be an additional tool when rates change: since balanced funds typically aren't fully invested in bonds so they tend to have less interest-rate risk or credit risk.